Dairy farming, one of the commercial activities carried out by our father, the late Ömer MATLI, in the 70s, is actually where the milk story began for Matlı. Now, as the second generation, our duty is to carry our story to a further point.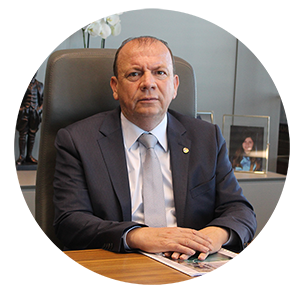 We can only foresee the future by analyzing and reading the past correctly.
The dynamics of the business world are constantly changing and we are constantly reshaping our strategies. We re-analyze our processes and keep pace with change. We can only foresee the future by analyzing and reading the past correctly.
Growth is our excitement and it will never end
We have been growing continuously since the first day we were founded. This growth is not only a commercial growth, but also a growth in hearts and hearts…
We grow in knowledge, happy customers, efficiency, investment and industry. In 2022, one of the important investments we made was the acquisition of Yörsan facilities, one of the top 5 largest enterprises in Turkey. We started to bring Yörsan products, which were founded in 1964 and left an important mark on consumers' taste buds for many years, to our consumers by further improving the capabilities of the facilities where they are produced.
Turkey's Feeding Expert
Our most important difference from producers in the food industry lies in the fact that we have been working as a nutritionist for 53 years. We are very excited about creating new stories and products for flavor enthusiasts in this new journey we have started. Although we are perceived as a new player in the sector, we are actually a structure with 53 years of experience and with this awareness, we aim to create different tastes and awareness for our consumers.
We strive to contribute to the change of both our company and our country by taking part in social responsibility projects and non-governmental organizations.
While producing, instead of dominating and managing natural resources, we will be a part of the existing system with all its elements. For a sustainable agricultural ecosystem, on the one hand, we will benefit from our land by producing, and on the other hand, we will always recognize the natural cycles in this ecosystem and the law of all assets that make up nature.
Change cannot happen without producing projects that will create added value. Within the scope of 53 years of agriculture and animal husbandry activities, we will continue to care about the power of women involved in production activities in order to develop conscious animal husbandry and we will continue to work to support them in every aspect.
I believe that Matlı will be a family that makes change for the country, serves its country, contributes to the development of its country in the field of agriculture and agriculture-based industry, and will be a family that will cost the society.
We are working to establish the infrastructure of a company that feeds eighty-three million people. There is not a province in our country where we have not carried out commercial activities. There is no region we have not touched in agriculture and animal husbandry. We want to create a new company that reflects the values of our country and will be the pride of Turkey.
We are a group open to science and development. With our R&D center investment, we continue to increase our product quality, develop new products and implement studies that will reduce our production costs with academic collaborations.
We will always protect our culture, traditions, products and values that exist in this unique land.
We will always act fairly and responsibly towards the society, our consumers, our business partners and our employees.
In this long journey, in line with the principles of our founder Ömer MATLI, we will continue to produce tirelessly in order to pay our debt to the land where we were born and where we live, and to establish a place on the tables and a throne in the hearts.
Özer MATLI
Chairman of the Board of Directors